The process of buying a business
Steps in buying a company
The process of buying a business consists of roughly 7 steps. The final objective is to purchase a business which fits your requirements. Our M&A advisers are well suited to manage the entire process. Our associate members are topic specialists in specific stages in this process and we get them involved when needed.
Due to our teamwork and our code of conduct, we are able to assist in any acquisition. This involves proper execution of the following stages;
Engagement letter and profile search to buy a business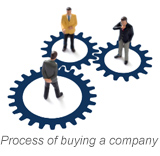 First, we equip ourselves with your company's vision and philosophy. We will try to understand your strategy to the last detail. Together, we will draw up a detailed profile of the companies you plan to acquire and the synergies or objectives you are trying to achieve. We will start directly, which gives you a good understanding of our capabilities later on, during the assignment. Once we have discussed your plans, we will present you with a detailed proposal and sign the engagement letter.
The search assignment
In this phase, we will start analyzing which existing companies in the marketplace comply with your search profile. We use our European-wide subscribed databases, our network, and other available resources. We grade targets based upon the criteria specified in the search profile. The outcome of this phase is a long list with qualified candidates for acquisition purposes.
Contacting businesses to buy
In this stage of buying a business, we ask your approval of the long list of targets, and then we contact them. We will mainly sell them the advantages of being part of your organization and picture very clearly what is in it for them and how they can benefit from a takeover. During the talks and meetings, we will thoroughly test the capabilities of their management and owners. The result will be a 'shortlist of targets', whom we will visit or invite to your company for further consideration.
The valuation and negotiation process
We will value serious targets on the basis of agreed methods. At the same time, we will check for a realistic feeling of the expected value by business owners, in order to create a solid ground for continuing the negotiations. If a majority stake is acquired, we mainly focus on the value added of your company, so that the remaining business owner(s) share can be very interesting for them, as a substantial increase may be expected after your company has finished the acquisition. Visit business valuations for in-depth information about this subject.
The letter of intent (LOI) or term sheet
Once we are certain we have found the most suitable target with the best management team, we negotiate an LOI with the candidate to be acquired. In case of a smaller project, we put together a one-page term sheet so both parties have a mutual understanding of the main framework for the contract. Visit legal documents in a business purchase for details about the legal documents involved in a business purchase.
Due diligence
We can assist in the due diligence of the company to be acquired. However, this can also be done by employees of your firm or local accountants/due diligence experts. Due diligence is executed on financial, operational, legal and other business areas. In this phase, we assure that all items are consistent with the financial statements in which they are described. Visit due diligence for general information or buying a business due diligence for in-depth information.
The contract to buy a company
In the final step of purchasing a business, the contract will be drawn up by an external legal party. Corporate Finance in Europe can manage this process if desired. Signing the contract with a notary is the first step in merging two companies that are more valuable together.
European M&A process
We provide our M&A services in all European countries. On account of our associate's native, skills the following countries have our special attention: the Netherlands, Belgium, Germany, France, the United Kingdom, Spain, Portugal, Italy, Austria, and Switzerland. Corporate Finance in Europe (CFIE) is highly qualified to help out on M&A advice, consultancy, valuation, taxes and legal matters. Visit international M&A advisers to find out if your preferred adviser is available.
Feel free to contact us for a free-of-charge brainstorming session and feedback on your plans and allow us to give you more information about the process of buying a company.
If you are considering the purchase of a company, the page advantages of buying an existing business might convince you. When you want to make a budget, we suggest reading the costs of buying a business.